Fibreglass Pools North Brisbane
North Brisbane Fibreglass Pools
Elevate Your Backyard: Fibreglass Pools by Swimming Pools Brisbane in North Brisbane
Imagine transforming your backyard into a tranquil haven of relaxation and entertainment. Your ideal oasis is just a step away with Swimming Pools Brisbane, your trusted partner for crafting exquisite fibreglass pools in North Brisbane. Our unwavering commitment to quality, innovation, and customer satisfaction distinguishes us as the premier choice for pool installation in this region.
Craftsmanship and Design Beyond Compare
At Swimming Pools Brisbane, we recognize that your pool is more than just a place to swim—it's an embodiment of your lifestyle and vision. Our team of skilled professionals brings your aspirations to life by fashioning custom-designed fibreglass pools that seamlessly integrate with your outdoor environment. From geometric to freeform, traditional to contemporary, we offer an array of pool designs catering to diverse tastes and preferences.
Advantages of Fibreglass Pools
Fibreglass pools are renowned for their endurance, adaptability, and low maintenance requirements. As a frontrunner in fibreglass pool installation, Swimming Pools Brisbane ensures that your investment yields substantial returns. Our pools are constructed utilizing the finest materials and advanced techniques, resulting in a pool that resists cracking, fading, and staining. With reduced maintenance demands, you can dedicate more time to relishing your pool and less time fretting about its maintenance.
A Seamless Installation Journey
Our dedication to delivering a hassle-free experience is vividly apparent in our installation process. From the initial consultation to the finishing touches, we accompany you every step of the way. Our proficient technicians execute precise and efficient installations, minimizing disruptions to your daily routine. With Swimming Pools Brisbane, you can rest assured that your project is entrusted to capable hands, promising a worry-free transformation of your backyard.
Your journey to an elevated backyard experience starts with Swimming Pools Brisbane. Contact us today to embark on the path of creating your dream fibreglass pool in North Brisbane. With our expertise, innovation, and commitment to excellence, we're dedicated to delivering a pool that complements your lifestyle and provides years of enjoyment.
View Some Of Our Installations:
View Our Award Winning Range
There is no better way to enjoy leisure time at home than with an inground swimming pool or spa. Make the most of family life, relaxing, entertaining, and keeping cool on hot summer days in and around a swimming pool or spa pool.
Indulge in the elegance of the Hampton Grande, a pool design that showcases sleek and refined aesthetics with its tight radius corners. Experience a clean and stylish look that adds a touch of sophistication to your outdoor space. The Hampton Grande is the epitome of timeless beauty, bringing a sense of luxury to your backyard oasis.
Introducing the Medina, an exquisitely stylish pool design tailored for contemporary homes. Experience the perfect fusion of modern aesthetics and functional elegance with this captivating pool. The Medina is designed to complement the sleek lines and architectural beauty of modern residences, adding a touch of sophistication to your outdoor space. Dive into luxury and elevate the ambiance of your home with the remarkable Medina pool design.
Discover the Stradbroke Series, a remarkable slimline pool design specifically crafted for narrow backyards. The Stradbroke Series combines functionality and style, offering a perfect solution for those seeking a pool that fits seamlessly within their narrow backyard while still providing ample room for relaxation and enjoyment. Experience the ultimate blend of practicality and elegance with the Stradbroke Series, designed to enhance the beauty and functionality of your home.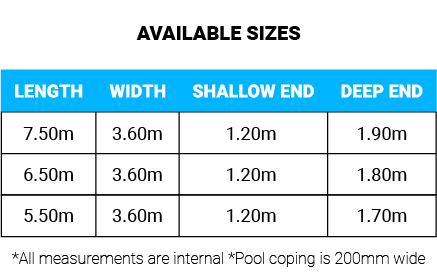 Experience the elegance and sophistication of the Hamilton Series, a pool design that exudes a clean and stylish aesthetic. With its generous swimming space, this series offers ample room for leisurely swims and aquatic activities. Dive into a world of luxury and relaxation with the Hamilton Series, where sleek design meets expansive swimming space for an unforgettable pool experience.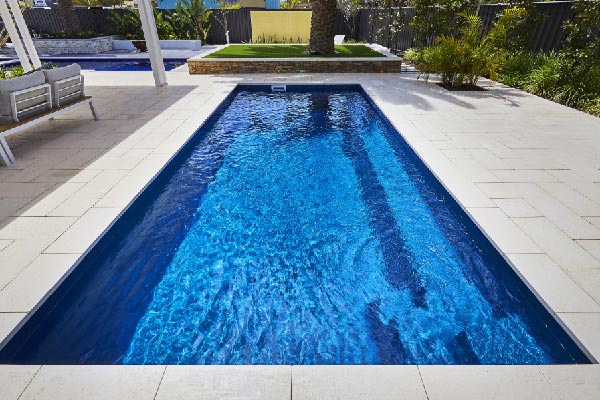 Introducing the Hamilton Slimline Series, an impeccable pool design that combines clean lines and contemporary style. This series offers a spacious width and generous swimming area, providing ample room for exercise, recreation, and aquatic fun. The addition of full-length bench seating enhances the pool's versatility, creating an inviting space to unwind and enjoy quality time with your loved ones. Immerse yourself in the perfect balance of functionality and relaxation with the Hamilton Slimline Series, where modern design meets exceptional comfort.
Experience the allure of the Riverina Series, a pool design that embodies cleanliness and style. With its ample width and generous swimming space, this pool provides the perfect setting for endless aquatic enjoyment. Dive into luxury and create lasting memories in the expansive and inviting waters of the Riverina Series. Discover the perfect balance of elegance and functionality in this stunning pool design.
Enhance your pool or outdoor entertainment area with our exquisite 2.5m x 1.9m Spa. Designed to complement any setting, this spa is a perfect addition for those seeking ultimate relaxation and socialising opportunities. With a spacious capacity to accommodate up to 9 people, it provides an ideal space for gathering and entertainment. Our spas can be heated separately from the pool, ensuring customised comfort for every occasion. Immerse yourself in luxury and elevate your outdoor experience with our exceptional Spa.
Discover the ultimate space for relaxation and socialising with our spacious spa that comfortably accommodates up to 9 people. Designed with a large wader area, it offers a perfect spot for kids to play or for cooling off on hot summer days. Create unforgettable moments and entertain your friends and family in this inviting oasis. Our Spa Waders can be heated separately from the pool, ensuring customisable comfort and a delightful experience for everyone. Indulge in luxury and elevate your outdoor entertainment with our exceptional Spa Wader.
Why You Should Choose a Swimming Pools Brisbane Fibreglass Pool for Your North Brisbane Home
Considering the idea of adding a pool to your North Brisbane backyard? Look no further – a fibreglass pool from Swimming Pools Brisbane could be the perfect solution to elevate your lifestyle and transform your outdoor space. Here's why a fibreglass pool installation should be at the top of your list:
1. Durability and Longevity
Fibreglass pools are renowned for their exceptional durability and longevity. Crafted from materials that resist corrosion, cracking, and damage caused by water and chemicals, a Swimming Pools Brisbane fibreglass pool is an investment in a lasting oasis. You can enjoy years of poolside fun with your family, knowing that your pool is built to endure the test of time.
2. Low Maintenance
Say goodbye to the hassle of constant pool maintenance. Fibreglass pools require minimal upkeep compared to other pool types. The smooth, non-porous surface of fibreglass discourages algae and bacteria from adhering, reducing the need for frequent cleaning and chemical treatments. This translates to more leisure time spent enjoying your pool and less time worrying about its maintenance.
3. Efficient Installation
At Swimming Pools Brisbane, we're experts in efficient and stress-free installations. Our fibreglass pools come pre-manufactured and are delivered to your site, making the installation process considerably quicker compared to other pool types. With our skilled team handling the installation, your fibreglass pool will be up and running in no time, allowing you to bask in your new oasis sooner.
4. Versatile Design Options
No matter the size of your backyard in North Brisbane, fibreglass pools offer a diverse array of design possibilities that align with your space and aesthetic preferences. From elegant lap pools to freeform lagoons, Swimming Pools Brisbane can customize the design to match your vision, ensuring your new pool seamlessly complements your outdoor ambiance.
5. Enhanced Property Value
A well-designed and professionally installed fibreglass pool can significantly boost the value of your North Brisbane property. Prospective buyers are often drawn to homes with appealing outdoor spaces, and a stunning fibreglass pool can be a major selling point that sets your property apart in the competitive real estate market.
6. Customization and Innovation
Swimming Pools Brisbane takes pride in offering innovative and tailor-made solutions. Our team collaborates closely with you to craft a pool design that aligns with your preferences and lifestyle. Whether you're envisioning integrated spa features, cascading waterfalls, or captivating lighting, our fibreglass pools can be customized to incorporate a range of unique and captivating elements.
Experience the Swimming Pools Brisbane Difference
Investing in a Swimming Pools Brisbane fibreglass pool means investing in quality, longevity, and an enhanced outdoor living experience. Contact us today to explore your options, share your ideas, and embark on the journey towards creating your dream backyard oasis. With our expertise, unwavering commitment, and dedication to excellence, we guarantee that your fibreglass pool will become a cherished addition to your North Brisbane home for years to come.