Choosing the colour of your pool is one of many exciting decisions you will have to make when purchasing a swimming pool. With so many colours on offer, which one do you pick? Here are some factors you should take into consideration to help you make the right choice.
Firstly, Establish The Look You Are Trying To Achieve
When deciding on a pool for your home, it is a good idea to ask yourself what you want your backyard to look like. Are you envisioning a contemporary pool area with sleek straight lines and minimal greenery or perhaps something a little more laid back like a free form pool that resembles a tropical oasis with lush foliage nearby? Once you have determined this, you can narrow down your choices. Freeform pools are usually lighter in colour whereas darker tones are more often paired with modern styles. Once you have decided on the overall design you would like for your backyard, the next step should involve narrowing down your favourite shades. Do you want the pool to have a pop of colour and stand out or blend in with the dominating tone of the backyard?
The colour can't be changed once the pool has been installed unless you replace it altogether of course, so you should choose one that is not only going to look modern today but for many years to come to prevent it looking old and outdated. This ensures your pool does not detract from the appeal of your home down the track. Although at the end of the day, it is your pool and you can have free range on the colour, it's ultimately up to you which gel-coat you choose.
Pick A Colour That Compliments Your Home
Breathtaking pools are ones that tie in with the home to create a well thought out cohesive space. Compare your colour choices to the palette and design of the exterior of the property to get the best result.
While there is a generous selection of fibreglass pool colours on offer, they can be broken down into two basic categories, light and dark.
If you reside in a warm climate, it's best to choose a lighter colour pool to avoid swimming in warm water in the middle of summer. Rather than attracting heat, they deflect it, and a downside to this is, you may notice that lighter coloured pools are glary. They are a great choice for backyards made up of dark surroundings and for those who want a tropical or beach feel to their pool. If you want to add lights to your pool, lighter finishes create a bright luminescent glow that is perfect for entertaining when the sun starts to go down. The only negative to choosing a light finish is that the floor and walls are highly visible and it makes dirt and debris prominent which means you may have to dedicate more time to clean the pool.
Dark pool colours are the go-to choice for people who are located in cooler climates and want to make their pool as warm as possible. Heat from the sun is absorbed in the water and if the pool is situated in direct sunlight, it can increase the temperature by up to 10 degrees. Because of this, they are not recommended for people in hot parts of the country as the pool can become too warm to provide relief from the intense heat. Dark pools can be off-set with muted and light palettes to draw the eye to the pool, not only that it makes it safer at night time if you don't have lighting in the pool. While dark pools with lighting can look beautiful, the prominence of the lighting isn't going to be as bright as a light pool. It is ideal for small pool designs and for people wanting a luxurious feel to their pool as they look contemporary can create an illusion of depth as the bottom is harder to see. Additionally, as the walls and bottom aren't as noticeable, its hard to detect dirt and debris on the floor.
When deciding on a colour, it should not be based on aesthetics alone. It's best to pick a gel-coat finish that is suited to your climate as well as this will ensure you get maximum use out of it. If your pool is going to be installed in a shady area, the pool will appear darker than if it were placed in full sun and if the pool is shallow, it will look lighter than a deeper variety, you may notice the steps appear lighter than the rest of the pool. Our specialist team can offer advice on which pool colours are best suited to you.
Swimming Pools Brisbane uses advanced gel coat technology for the interior surface of our pools. They are extremely durable and designed to withstand damage from UV rays, chemicals, osmosis, heat and extreme weather conditions all while maintaining their vibrant colour. All come with a lifetime guarantee.
Royal Blue Shimmer is a deep yet vibrant navy colour. The base is dark blue and scattered with black, medium and light blue shimmers.
Ocean Shimmer is slightly lighter than Royal Blue Shimmer and offers a striking blue colour that has pale blue flecks scattered throughout.
Pacific Shimmer is one of the most popular finishes as it suits virtually any landscape and exterior design. It has a vibrant cool blue base and lighter flecks that sparkle in the sun.
Indigo Shimmer is a timeless finish that is light and bright. Primarily pastel blue with silver and white chips that glisten in the sunshine.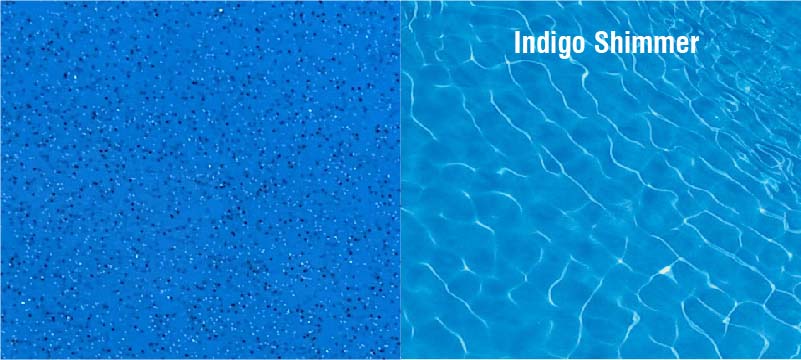 Sandstone Shimmer is the closest colour to that of a sandy beach. The pool when filled with water, provides an inviting pale blue pool colour.
Alpine White Shimmer is a white base with pale grey flecks throughout and when the sun hits it provides a diamond-like gleam. A great choice to get the most vibrant effect from lighting.
Royal Jade Shimmer is a deep teal colour that has hints of medium blue and grey. Once filled with water it lightens to a medium tone of jade.
Electric Grey Shimmer is a gunmetal grey base with blue and silver sparkles. Adding water transforms it to greyish-teal coloured oasis.
Midnight Shimmer is the darkest blue colour we have in our collection and the shell itself almost looks like a night sky with stars scattered amongst it. Once submerged in water, it lightens to a dark navy. It is a preferred choice for smaller pools to create a sense of depth and drama.
Swimming Pools Brisbane have a generous selection of fibreglass swimming pools that come in a variety of stunning finishes. Our team is highly experienced at matching pools with homes and would love to help you choose the right colour for you. If you have any questions about our colour series or if you'd like additional information, speak with one of our friendly team members and they will happily assist.