Swimming Pools Brisbane is a renowned name in the world of aquatic luxury. When it comes to creating stunning swimming pools in Brisbane, they are the experts you can trust. With an unwavering commitment to excellence and an impressive portfolio of completed projects, Swimming Pools Brisbane has become synonymous with innovation and top-tier craftsmanship. They transform Brisbane backyards into havens of relaxation and recreation, providing a respite from the city's warm climate. Whether you dream of a contemporary, resort-style pool or a classic design that complements your home, Swimming Pools Brisbane has the expertise to bring your vision to life. Their dedication to quality construction and customer satisfaction ensures that each pool they install becomes a centerpiece of outdoor living, inviting friends and family to enjoy the ultimate aquatic experience in the subtropical paradise of Brisbane.
View Our Award Winning Range
There is no better way to enjoy leisure time at home than with an inground swimming pool or spa. Make the most of family life, relaxing, entertaining, and keeping cool on hot summer days in and around a swimming pool or spa pool.
Indulge in the elegance of the Hampton Grande, a pool design that showcases sleek and refined aesthetics with its tight radius corners. Experience a clean and stylish look that adds a touch of sophistication to your outdoor space. The Hampton Grande is the epitome of timeless beauty, bringing a sense of luxury to your backyard oasis.
Introducing the Medina, an exquisitely stylish pool design tailored for contemporary homes. Experience the perfect fusion of modern aesthetics and functional elegance with this captivating pool. The Medina is designed to complement the sleek lines and architectural beauty of modern residences, adding a touch of sophistication to your outdoor space. Dive into luxury and elevate the ambiance of your home with the remarkable Medina pool design.
Discover the Stradbroke Series, a remarkable slimline pool design specifically crafted for narrow backyards. The Stradbroke Series combines functionality and style, offering a perfect solution for those seeking a pool that fits seamlessly within their narrow backyard while still providing ample room for relaxation and enjoyment. Experience the ultimate blend of practicality and elegance with the Stradbroke Series, designed to enhance the beauty and functionality of your home.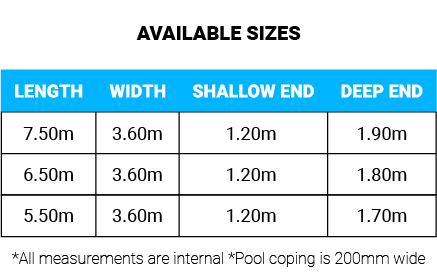 Experience the elegance and sophistication of the Hamilton Series, a pool design that exudes a clean and stylish aesthetic. With its generous swimming space, this series offers ample room for leisurely swims and aquatic activities. Dive into a world of luxury and relaxation with the Hamilton Series, where sleek design meets expansive swimming space for an unforgettable pool experience.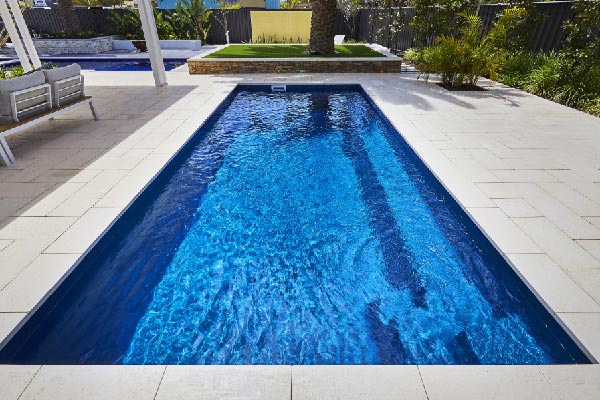 Introducing the Hamilton Slimline Series, an impeccable pool design that combines clean lines and contemporary style. This series offers a spacious width and generous swimming area, providing ample room for exercise, recreation, and aquatic fun. The addition of full-length bench seating enhances the pool's versatility, creating an inviting space to unwind and enjoy quality time with your loved ones. Immerse yourself in the perfect balance of functionality and relaxation with the Hamilton Slimline Series, where modern design meets exceptional comfort.
Experience the allure of the Riverina Series, a pool design that embodies cleanliness and style. With its ample width and generous swimming space, this pool provides the perfect setting for endless aquatic enjoyment. Dive into luxury and create lasting memories in the expansive and inviting waters of the Riverina Series. Discover the perfect balance of elegance and functionality in this stunning pool design.
Enhance your pool or outdoor entertainment area with our exquisite 2.5m x 1.9m Spa. Designed to complement any setting, this spa is a perfect addition for those seeking ultimate relaxation and socialising opportunities. With a spacious capacity to accommodate up to 9 people, it provides an ideal space for gathering and entertainment. Our spas can be heated separately from the pool, ensuring customised comfort for every occasion. Immerse yourself in luxury and elevate your outdoor experience with our exceptional Spa.
Discover the ultimate space for relaxation and socialising with our spacious spa that comfortably accommodates up to 9 people. Designed with a large wader area, it offers a perfect spot for kids to play or for cooling off on hot summer days. Create unforgettable moments and entertain your friends and family in this inviting oasis. Our Spa Waders can be heated separately from the pool, ensuring customisable comfort and a delightful experience for everyone. Indulge in luxury and elevate your outdoor entertainment with our exceptional Spa Wader.
Welcome to the Swimming Pools Brisbane
Our range of fibreglass pools are the highest quality on the market, and we are one of only two fibreglass pool manufacturing companies with the prestige Australian Standards 5 Tick certified product certification. Investing in a pool with Swimming Pools Brisbane means you are only buying the best.
Everyone's motivations for purchasing a pool is wildly different. Whether it be something small for limited space, or a huge family entertainer, we have lots of pool designs, sizes and sparkle colours so you can be sure you are getting the perfect pool. Our experienced team are also readily available to help you choose the best pool for you and your needs.
Our entire team consists of highly skilled and experienced pool builders. All of their training has been undertaken right here at Swimming Pools Brisbane so you can rest assured that your fibreglass pool will be installed by a fully qualifed pool builder. If you are interested in purchasing a fibreglass pool for your home, don't hesitate to reach out to us today to organise your free, onsite quote.
Your Dream Pool Awaits...
We have a wide range of small fibreglass swimming pools, many have won SPASA awards for best inground fibreglass swimming pool, we are sure to have a pool that will suit your backyard and requirements.
Our medium sized fibreglass pools are some of our most popular pool designs and are priced keenly to suit your budget. Encompassing straight lines, they look modern and up to date in any setting. With various different designs, you are spoilt for choice.
If you're after size and want a swimming pool to accommodate social gatherings with friends or family, then you need to investigate our selection of sizeable inground fibreglass swimming pools. They provide that expansive, ocean feel.
Fibreglass Pools in Brisbane
When it comes to opulent and easy-to-maintain pool options, fibreglass pools provided by Swimming Pools Brisbane emerge as a premier selection for homeowners in the charming city of Brisbane. With their dedication to superior craftsmanship, innovative designs, and top-tier installations, Swimming Pools Brisbane has established its reputation as a leading supplier of fibreglass pools in the area. Fibreglass pools are renowned for their flawless and sleek finish, which not only enhances their visual allure but also offers a comfortable surface for swimmers. Swimming Pools Brisbane takes this inherent quality of fibreglass pools to new levels by presenting a diverse array of designs that cater to a variety of tastes and preferences. Whether you are in search of a contemporary geometric pool that complements your modern residence or a more organic, freeform shape that harmonises with your natural surroundings, Swimming Pools Brisbane provides an option that aligns with your vision.
9 Reasons Why More Home Owners Choose Swimming Pools Brisbane
If you've always dreamed of a swimming pool for the backyard, Swimming Pools Brisbane can help. Here's why you should choose us.
4 Easy Steps To Owning Your Swimming Pool
Frequently Asked Questions
1. How much does it cost for a fibreglass pool?
There are several factors that can affect the overall cost of your pool. Things such as the size and type of pool you choose and the features you want to add to it can alter the price. Other factors such as the condition of your site and whether you have adequate access or not. Additionally, if any groundwork needs to be undertaken prior to installation or if structures or trees need to be removed first this will attribute to the amount it costs to install your pool. The best way to get an accurate price, is by contacting our team to organise your free onsite quote.
2. Why should I choose a fibreglass pool?
Fibreglass pools have a multitude of benefits in comparison to other types such as concrete and vinyl liner pools. Fibreglass pools can be installed in a matter of a week, whereas concrete can take anywhere from 3 to 6 months to complete. Fibreglass pools are highly compatible with saltwater systems concrete and vinyl liner pools on the other hand are not. Fibreglass pools are known for their nonporous surface which makes them extremely easy to clean and maintain. They are durable and there is a fibreglass pool to suit every budget and home.
3. What is a fibreglass pool?
A fibreglass pool is a type of swimming pool that is built in a factory using high grade fibreglass. They are available in a variety of shapes, colours, and designs.
4. How are fibreglass pools made?
Our fibreglass pools are constructed on a mould in a factory. The fibreglass shells we use undergo a 10-point construction process. The first layer consists of an advanced colour technology gel coat, this is what gives your pool its colour. Next is a layer of the highest quality vinyl ester resin, then polyester resin and woven roving is placed. A layer of structural honeycomb goes on next followed by the last final layer. The shell is then cured and removed from the mould. Finally, it is trimmed and goes through a thorough quality assurance check.
5. Which is better? Fibreglass or concrete?
For decades concrete pools used to dominate the pool industry. However, over recent years fibreglass pools have increased in popularity and are now the most common pools found in Australian backyards. They are quick and fuss free to install and the maintenance and costs associated with running them is significantly lower than other concrete. Fibreglass pools are sought after as they are durable and affordable. Concrete pools tend to be expensive to install and look after. The interior surface of a concrete pool is highly porous which makes the perfect environment for algae and bacteria to grow and multiply. This means more money and time is needed to keep a concrete pool clean. Furthermore, concrete pools have to be resurfaced every 10 to 15 years which is significant cost to the pool owner, costing around $10,000.
6. How long will a fibreglass pool last?
Homeowners do not just opt for fibreglass because of their low maintenance and easy installation but because they are highly durable too. Modern technology enables fibreglass pools to be manufactured to such a high standard that they can outlast their concrete counterparts. A quality fibreglass pool that has been installed correctly will last well over 30 years, all whilst maintaining it vibrant colour and structure. Our fibreglass pools exceed Australian and worldwide standards for thickness and have been skilfully designed to accommodate earth movements without the risk of cracking.
7. How long does it take to put in a fibreglass pool?
All going well, a fibreglass pool can be installed in a matter of 7 days. Although, there are some factors that can prolong your pool build. Determinants such as the weather, the condition that the pool is to be installed on and whether your council approvals go through quickly or not. On average, installing a fibreglass pool takes around 7 days to 3 weeks.
Check Out The Latest From Our Blog