Quality Fibreglass Pools In Brisbane
When it comes to enhancing your home's aesthetics and creating a relaxing oasis, few investments can compare to a swimming pool. If you reside in Brisbane, Australia, building a fibreglass pool is an excellent choice. Fibreglass pools have gained immense popularity in recent years, and for good reason. In this article, we will explore the various reasons why building a fibreglass pool in Brisbane is a fantastic idea.
Fibreglass pools are renowned for their exceptional durability. They are constructed using a high-strength composite material, making them resistant to cracks, leaks, and corrosion. This durability ensures that your investment will stand the test of time, providing you with countless years of enjoyment. Furthermore, fibreglass pools require minimal maintenance compared to other pool types, saving you both time and money in the long run.
One of the most significant advantages of fibreglass pools is their quick installation process. Unlike concrete pools that can take several weeks or even months to complete, fibreglass pools are prefabricated in a controlled environment and then transported to your property for installation. This streamlined process significantly reduces the construction time, allowing you to start enjoying your pool sooner rather than later.
Fibreglass pools offer a wide range of design options to suit your preferences and complement your home's architectural style. Whether you prefer a traditional rectangular shape, a sleek geometric design, or a freeform layout, there are numerous fibreglass pool models available to choose from. Additionally, you can customize your pool with various features, such as built-in steps, benches, spa jets, and lighting options, to create a personalized and luxurious swimming experience.
Enhanced Energy Efficiency
Brisbane's warm climate means that maintaining the ideal water temperature in your pool can be a significant concern. Fibreglass pools are known for their superior energy efficiency due to their excellent insulation properties. The composite material used in their construction helps to retain heat, reducing the amount of energy required to heat the pool water. Consequently, you can enjoy swimming in comfortable water temperatures without worrying about excessive energy consumption and high utility bills.
Smooth Surface and Comfortable Experience
The smooth gelcoat surface of fibreglass pools not only provides an aesthetically pleasing appearance but also offers a comfortable swimming experience. Unlike concrete pools, fibreglass pools do not require resurfacing or retiling, ensuring a consistently smooth and enjoyable surface for years to come. Additionally, the non-porous nature of fibreglass prevents the growth of algae and other microorganisms, reducing the need for chemical treatments and making maintenance easier.
Cost-Effective Investment
Compared to other pool types, fibreglass pools are generally more cost-effective. The quick installation process, lower maintenance requirements, and energy-efficient features contribute to long-term savings. Moreover, fibreglass pools typically require fewer chemicals for water treatment and have a longer lifespan, reducing the need for frequent repairs or renovations.
Building a fibreglass pool in Brisbane offers a multitude of benefits that make it an excellent choice for homeowners. From durability and quick installation to design versatility and energy efficiency, fibreglass pools provide an enjoyable and cost-effective swimming experience. So, whether you seek relaxation, entertainment, or a way to beat the heat, investing in a fibreglass pool in Brisbane is undoubtedly a fantastic idea that will enhance your lifestyle and transform your home into a personal oasis.
Why You Need A Fibreglass Pool!
View Our Award Winning Range
There is no better way to enjoy leisure time at home than with an inground swimming pool or spa. Make the most of family life, relaxing, entertaining, and keeping cool on hot summer days in and around a swimming pool or spa pool.
Indulge in the elegance of the Hampton Grande, a pool design that showcases sleek and refined aesthetics with its tight radius corners. Experience a clean and stylish look that adds a touch of sophistication to your outdoor space. The Hampton Grande is the epitome of timeless beauty, bringing a sense of luxury to your backyard oasis.
Introducing the Medina, an exquisitely stylish pool design tailored for contemporary homes. Experience the perfect fusion of modern aesthetics and functional elegance with this captivating pool. The Medina is designed to complement the sleek lines and architectural beauty of modern residences, adding a touch of sophistication to your outdoor space. Dive into luxury and elevate the ambiance of your home with the remarkable Medina pool design.
Discover the Stradbroke Series, a remarkable slimline pool design specifically crafted for narrow backyards. The Stradbroke Series combines functionality and style, offering a perfect solution for those seeking a pool that fits seamlessly within their narrow backyard while still providing ample room for relaxation and enjoyment. Experience the ultimate blend of practicality and elegance with the Stradbroke Series, designed to enhance the beauty and functionality of your home.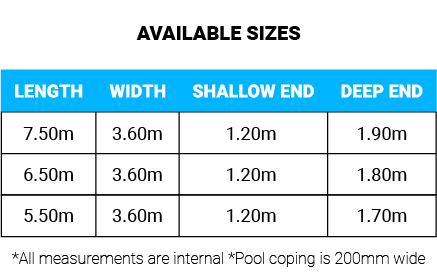 Experience the elegance and sophistication of the Hamilton Series, a pool design that exudes a clean and stylish aesthetic. With its generous swimming space, this series offers ample room for leisurely swims and aquatic activities. Dive into a world of luxury and relaxation with the Hamilton Series, where sleek design meets expansive swimming space for an unforgettable pool experience.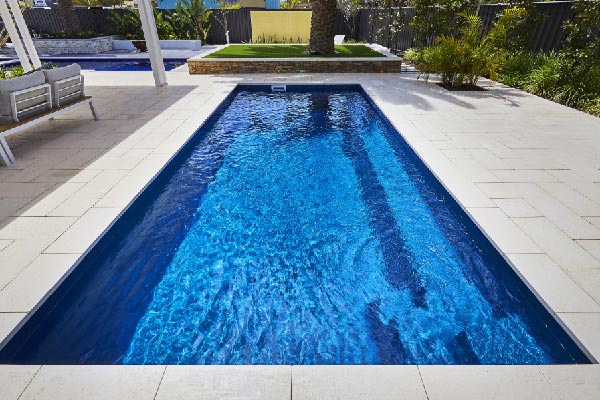 Introducing the Hamilton Slimline Series, an impeccable pool design that combines clean lines and contemporary style. This series offers a spacious width and generous swimming area, providing ample room for exercise, recreation, and aquatic fun. The addition of full-length bench seating enhances the pool's versatility, creating an inviting space to unwind and enjoy quality time with your loved ones. Immerse yourself in the perfect balance of functionality and relaxation with the Hamilton Slimline Series, where modern design meets exceptional comfort.
Experience the allure of the Riverina Series, a pool design that embodies cleanliness and style. With its ample width and generous swimming space, this pool provides the perfect setting for endless aquatic enjoyment. Dive into luxury and create lasting memories in the expansive and inviting waters of the Riverina Series. Discover the perfect balance of elegance and functionality in this stunning pool design.
Enhance your pool or outdoor entertainment area with our exquisite 2.5m x 1.9m Spa. Designed to complement any setting, this spa is a perfect addition for those seeking ultimate relaxation and socialising opportunities. With a spacious capacity to accommodate up to 9 people, it provides an ideal space for gathering and entertainment. Our spas can be heated separately from the pool, ensuring customised comfort for every occasion. Immerse yourself in luxury and elevate your outdoor experience with our exceptional Spa.
Discover the ultimate space for relaxation and socialising with our spacious spa that comfortably accommodates up to 9 people. Designed with a large wader area, it offers a perfect spot for kids to play or for cooling off on hot summer days. Create unforgettable moments and entertain your friends and family in this inviting oasis. Our Spa Waders can be heated separately from the pool, ensuring customisable comfort and a delightful experience for everyone. Indulge in luxury and elevate your outdoor entertainment with our exceptional Spa Wader.