Family Fibreglass Swimming Pools
A Compelling Case for Installation by Swimming Pools Brisbane
A family-oriented lifestyle is synonymous with joy, relaxation, and quality time spent together. One of the best ways to enhance this lifestyle is by installing a family fibreglass swimming pool. As a reputable provider of swimming pool installations, Swimming Pools Brisbane offers unparalleled expertise in creating safe, durable, and visually appealing swimming pools for families. This page will delve into the various reasons why installing a family fibreglass swimming pool is a worthwhile investment for your home.
A family fibreglass swimming pool serves as a focal point for quality time and bonding among family members. It provides an excellent opportunity for parents and children to come together, enjoy recreational activities, and create lasting memories. Whether it's a refreshing dip on a hot summer day or organising poolside gatherings and barbecues, a swimming pool offers endless opportunities for families to connect, relax, and engage in fun-filled activities.
Health and Wellness Benefits
Swimming is a fantastic low-impact exercise that offers numerous health benefits for both children and adults. Regular swimming sessions in a family fibreglass pool can help improve cardiovascular health, build strength and endurance, and promote overall fitness. Swimming is also an effective stress-reliever, helping to alleviate anxiety and promote mental well-being. By installing a swimming pool, you provide your family with a convenient and enjoyable way to stay active and maintain a healthy lifestyle.
Convenient Recreation at Home
With a family fibreglass swimming pool in your backyard, you have the luxury of having a recreational oasis right at your doorstep. No longer do you have to plan and pack for trips to public pools or crowded beaches. Your family can enjoy the convenience and privacy of a swimming pool in the comfort of your own home. Whether it's an impromptu swimming session, a poolside party, or a peaceful evening swim, having a private pool ensures that your family has access to relaxation and recreation whenever they desire.
Swimming Pools Brisbane specialises in installing fibreglass swimming pools known for their safety and durability. Fibreglass pools are constructed using a single-piece shell, which eliminates the need for seams, joints, or liners that can deteriorate over time. This design makes fibreglass pools resistant to cracks, leaks, and punctures, ensuring a safer and longer-lasting swimming pool for your family. Additionally, fibreglass surfaces are non-abrasive, reducing the risk of slips and injuries, making them an ideal choice for families with children and elderly members.
Cost-Effective and Low Maintenance
Compared to other pool construction materials, fibreglass swimming pools are relatively cost-effective both in terms of installation and long-term maintenance. The installation process is efficient, reducing labour costs and time spent on construction. Additionally, the smooth surface of fibreglass pools inhibits algae growth, requiring fewer chemicals and less frequent cleaning. This not only saves you money but also minimises the time and effort spent on pool maintenance, allowing your family to enjoy the pool more often.
View Our Award Winning Range
There is no better way to enjoy leisure time at home than with an inground swimming pool or spa. Make the most of family life, relaxing, entertaining, and keeping cool on hot summer days in and around a swimming pool or spa pool.
Indulge in the elegance of the Hampton Grande, a pool design that showcases sleek and refined aesthetics with its tight radius corners. Experience a clean and stylish look that adds a touch of sophistication to your outdoor space. The Hampton Grande is the epitome of timeless beauty, bringing a sense of luxury to your backyard oasis.
Introducing the Medina, an exquisitely stylish pool design tailored for contemporary homes. Experience the perfect fusion of modern aesthetics and functional elegance with this captivating pool. The Medina is designed to complement the sleek lines and architectural beauty of modern residences, adding a touch of sophistication to your outdoor space. Dive into luxury and elevate the ambiance of your home with the remarkable Medina pool design.
Discover the Stradbroke Series, a remarkable slimline pool design specifically crafted for narrow backyards. The Stradbroke Series combines functionality and style, offering a perfect solution for those seeking a pool that fits seamlessly within their narrow backyard while still providing ample room for relaxation and enjoyment. Experience the ultimate blend of practicality and elegance with the Stradbroke Series, designed to enhance the beauty and functionality of your home.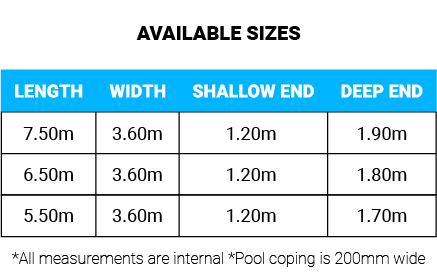 Experience the elegance and sophistication of the Hamilton Series, a pool design that exudes a clean and stylish aesthetic. With its generous swimming space, this series offers ample room for leisurely swims and aquatic activities. Dive into a world of luxury and relaxation with the Hamilton Series, where sleek design meets expansive swimming space for an unforgettable pool experience.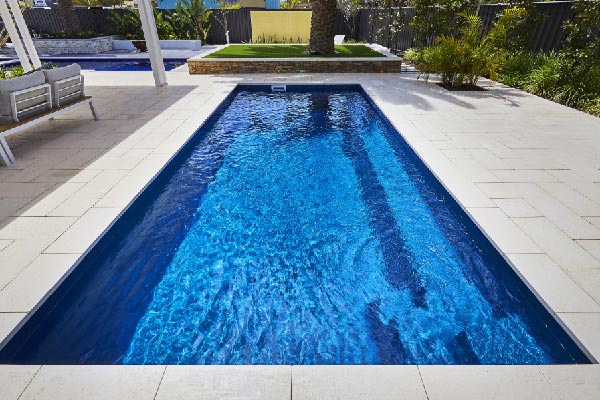 Introducing the Hamilton Slimline Series, an impeccable pool design that combines clean lines and contemporary style. This series offers a spacious width and generous swimming area, providing ample room for exercise, recreation, and aquatic fun. The addition of full-length bench seating enhances the pool's versatility, creating an inviting space to unwind and enjoy quality time with your loved ones. Immerse yourself in the perfect balance of functionality and relaxation with the Hamilton Slimline Series, where modern design meets exceptional comfort.
Experience the allure of the Riverina Series, a pool design that embodies cleanliness and style. With its ample width and generous swimming space, this pool provides the perfect setting for endless aquatic enjoyment. Dive into luxury and create lasting memories in the expansive and inviting waters of the Riverina Series. Discover the perfect balance of elegance and functionality in this stunning pool design.
Enhance your pool or outdoor entertainment area with our exquisite 2.5m x 1.9m Spa. Designed to complement any setting, this spa is a perfect addition for those seeking ultimate relaxation and socialising opportunities. With a spacious capacity to accommodate up to 9 people, it provides an ideal space for gathering and entertainment. Our spas can be heated separately from the pool, ensuring customised comfort for every occasion. Immerse yourself in luxury and elevate your outdoor experience with our exceptional Spa.
Discover the ultimate space for relaxation and socialising with our spacious spa that comfortably accommodates up to 9 people. Designed with a large wader area, it offers a perfect spot for kids to play or for cooling off on hot summer days. Create unforgettable moments and entertain your friends and family in this inviting oasis. Our Spa Waders can be heated separately from the pool, ensuring customisable comfort and a delightful experience for everyone. Indulge in luxury and elevate your outdoor entertainment with our exceptional Spa Wader.
Frequently Asked Questions